Editorial
Treatment strategy for patients with relapsed small-cell lung cancer: past, present and future
Although the incidence rate of small cell lung cancer (SCLC) has consequently decreased, SCLC still accounts for approximately 13% of all lung cancers (1). SCLC is sensitive to chemotherapy and radiation therapy. However, disease relapse or progression will occur in almost all patients with SCLC. Because patients with relapsed SCLC has poor prognosis and the number of available drugs is limited, more effective second-line chemotherapy is warranted.
Zhao et al. retrospectively reported the efficiency of second-line treatment for relapsed SCLC in Translational Lung Cancer Research. They analyzed the efficacy of four drugs that were used in second-line chemotherapy: topotecan, irinotecan, paclitaxel, and docetaxel. All patients received platinum and etoposide as the first-line regimen. Although there was no significant difference in patient characteristics, the proportions of patients with limited-stage disease and a longer treatment-free interval (TFI) were higher in the irinotecan group. In addition, all patients in the paclitaxel group received platinum as second-line chemotherapy. The median progression-free survival (PFS) times for patients treated with irinotecan, topotecan, paclitaxel, and docetaxel were 91, 74.5, 81, and 50 days, respectively, with no significant differences among the treatments (P=0.6445). The median survival time (MST) of these groups were 595, 154, 168.5, and 184 days, respectively, and there were significant differences among the groups (P=0.0069). In addition to assessment of second-line treatment, they also assessed the prognostic factors for patients with relapsed SCLC. TFI <90 days, lactate dehydrogenase (LDH) ≥225 U/L, and neutrophil-to-lymphocyte ratio ≥3.5 were identified as prognostic factors in patients with relapsed SCLC received second-line treatment. They concluded that second-line chemotherapy with topotecan may provide better overall survival benefits in patients with SCLC. Although I thought that topotecan was a mistake for irinotecan, it was considered that the patient characteristics had a significant effect on the efficacy of second-line treatment, as mentioned by the authors. However, it is difficult to conduct a study comparing these drugs, and real-world data such as those discussed in this study are worthwhile.
The efficacy of second-line chemotherapy is different according to TFI and relapse is conventionally defined as sensitive and refractory or resistant based on TFI. The prognosis of patients with refractory relapsed SCLC was worse than those with sensitive relapsed SCLC. There have been few phase III trials of patients with relapsed SCLC. The results of phase III trial comparing oral topotecan with best supportive care (BSC) were reported in 2006 (2). Topotecan significantly prolonged MST compared with BSC [MST: 25.9 versus 13.9 weeks, hazard ratio (HR) =0.64, 95% confidence interval: 0.45–0.90, P=0.0104]. Amrubicin is a synthetic 9-amino-anthracycline that produced response rates of 40–50% in phase II trials (3,4). However, a phase III trial comparing topotecan with amrubicin in second-line setting did not show the superiority of amrubicin (5). The MST in the amrubicin arm was 7.5 months, compared with 7.8 months for the topotecan arm (HR =0.880, P=0.170). Although it was a subgroup analysis, amrubicin significantly prolonged MST compared with the effects of topotecan among patients with refractory relapsed SCLC (HR =0.766, P=0.047). In 2016, the results of a phase III trial comparing cisplatin, etoposide, and irinotecan combination therapy (PEI) with topotecan for patients with sensitive relapsed SCLC were reported (6). The MST of PEI group was 18.2 months and MST of topotecan group was 12.5 months. PEI significantly prolonged MST (HR =0.67, P=0.0079). Although PEI is the only treatment strategy that has displayed superiority over topotecan, PEI is rarely used in the world because of the complexity of dosing schedule and topotecan remains the control arm in many clinical trials of sensitive relapsed SCLC.
In the National Comprehensive Cancer Network (NCCN) guideline, patients with relapsed SCLC are recommended to participate in clinical trials (7). As selectable drugs other than topotecan, irinotecan, paclitaxel, docetaxel, temozolomide, and nivolumab are recommended for relapsed SCLC with TFI ≤6 months and performance status of 0–2. However, no phase III results are available for these drugs, and there is little evidence supporting their clinical use. Table 1 presents the efficacy of various drugs for patients with relapsed SCLC. Individual cytotoxic drugs had low efficacy excluding topotecan, which displayed superiority over BSC in a phase III trial. The MST of individual drugs ranged 3–7 months. The efficacy of combinations of cytotoxic drugs was also reported. However, toxicity was enhanced, and the efficacy was limited. Targeted drugs, such as bevacizumab, nintedanib, sunitinib, linsitinib, and pazopanib, were less effective, and the primary endpoint was not met (27,32,39,41,42,45,47). Although a trial of immune checkpoint inhibitors did not meet the primary endpoint of overall response rate (ORR), the drugs were linked to long durations of response (41). Recently, a phase III trial (IMpower 133) demonstrated that the addition of atezolizumab to chemotherapy for patients with untreated extensive stage SCLC significantly prolonged PFS compared with the effects of chemotherapy alone (50). These data suggested that immune checkpoint inhibitors are effective in some patients with relapsed SCLC.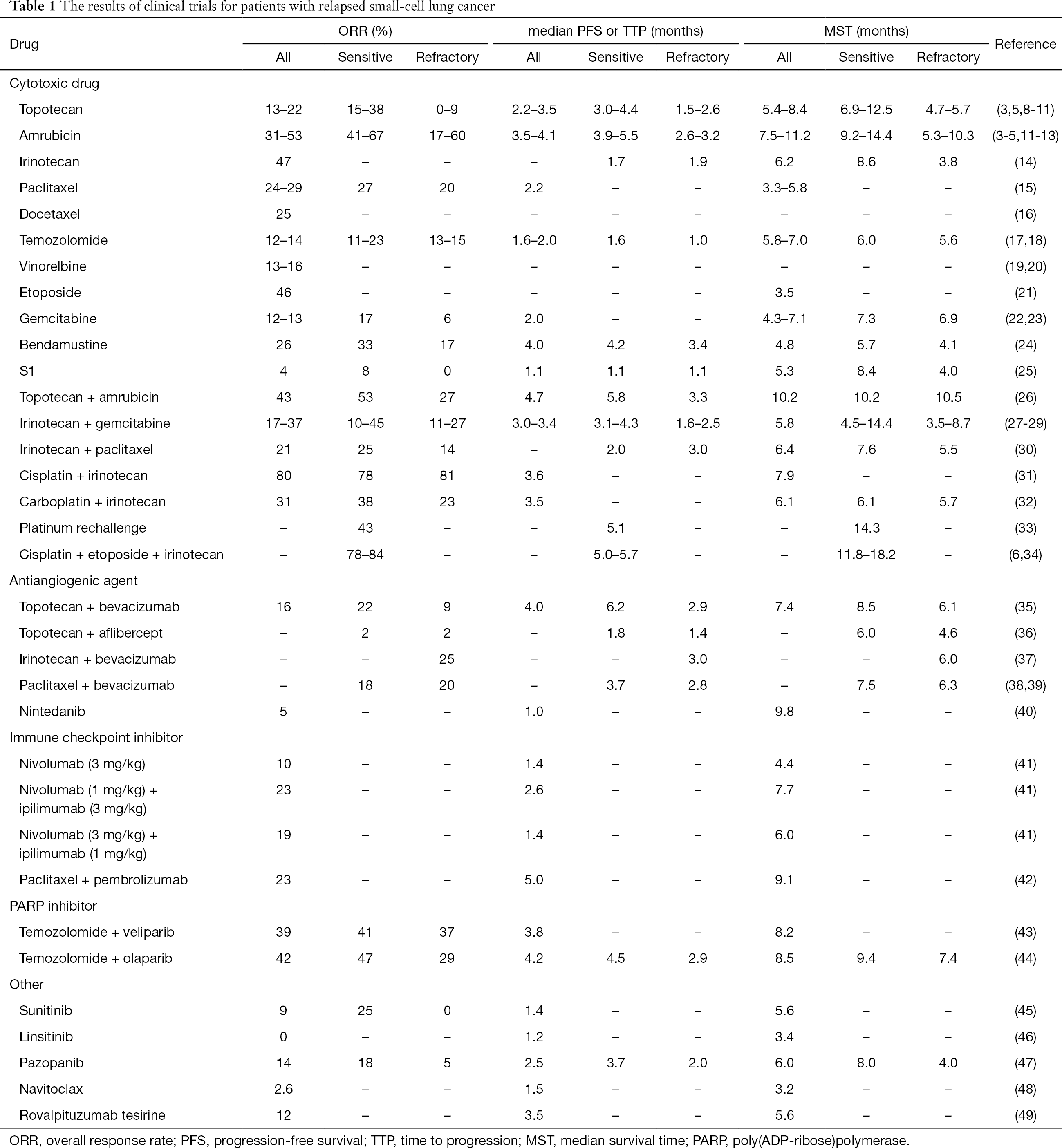 Table 1
The results of clinical trials for patients with relapsed small-cell lung cancer
Full table
It was reported that patients with sensitive relapsed SCLC responded to the same initial chemotherapy, generally termed rechallenge chemotherapy. Rechallenge chemotherapy is recommended for relapsed SCLC among patients with TFI >6 months in the NCCN guideline (7). In 1988, Giaccone et al. and Postmus et al. were reported the efficacy of rechallenge chemotherapy for patients with sensitive relapsed SCLC in 1988 (51,52). The ORR of rechallenge chemotherapy was 50–62%. Although the results of their reports suggest the efficacy of rechallenge chemotherapy, reported chemotherapy are not standard regimens at this time. In 2015, a randomize phase II trial assessing the efficacy of amrubicin and rechallenge chemotherapy for patients with sensitive relapsed SCLC was reported (33). The primary endpoint was ORR and only amrubicin group met the primary endpoint (Amrubicin group: 67% and rechallenge chemotherapy group: 43%).
Recently, molecular targeted drugs and immune checkpoint inhibitors have been developed for SCLC, and many clinical trials of patients with relapsed SCLC are ongoing (Table 2). New drugs for SCLC are classified into six types according to the mechanism of action as follows: antiangiogenic agents, poly(ADP-ribose)polymerase (PARP) inhibitors, immune checkpoint inhibitors, inhibitors of cell cycle proteins such as Wee1 and Aurora kinase A, antibody-drug conjugates (ADCs) targeting delta-like canonical Notch ligand 3 (DLL3), and enhancer of zeste homologue (EZH2) inhibitors. PARP plays an important role in repair of single-strand DNA breaks (53). It was reported that PARP protein was upregulated in SCLC compared with its expression in other lung cancers, and SCLC cell lines were sensitive to PARP inhibitors (54). In a randomized phase II study, veliparib in combination with cisplatin and etoposide significantly prolonged PFS compared with the effects of placebo combined with cisplatin and etoposide. Many trials of PARP inhibitors are ongoing. EZH2 is the enzymatic histone-lysine N-methyltransferase subunit of polycomb repressive complex 2, and it mediates histone H3 lysine 27 dimethylation and trimethylation (H3K27me2 and H3K27me3, respectively) (55). EZH2 is frequently overexpressed in many types of tumors, and higher EZH2 expression is associated with the activity of cancer (56). It was reported that EZH2 was associated with chemoresistance in patient-derived xenografts (57). According to Table 2, AZD1775 is a Wee1 inhibitor, rovalpituzumab tesirine is an ADC-targeting DLL3, and PF-06821497 is an EZH2 inhibitor. Because more effective treatments for patients with relapsed SCLC are desired, the results of these clinical trials are awaited.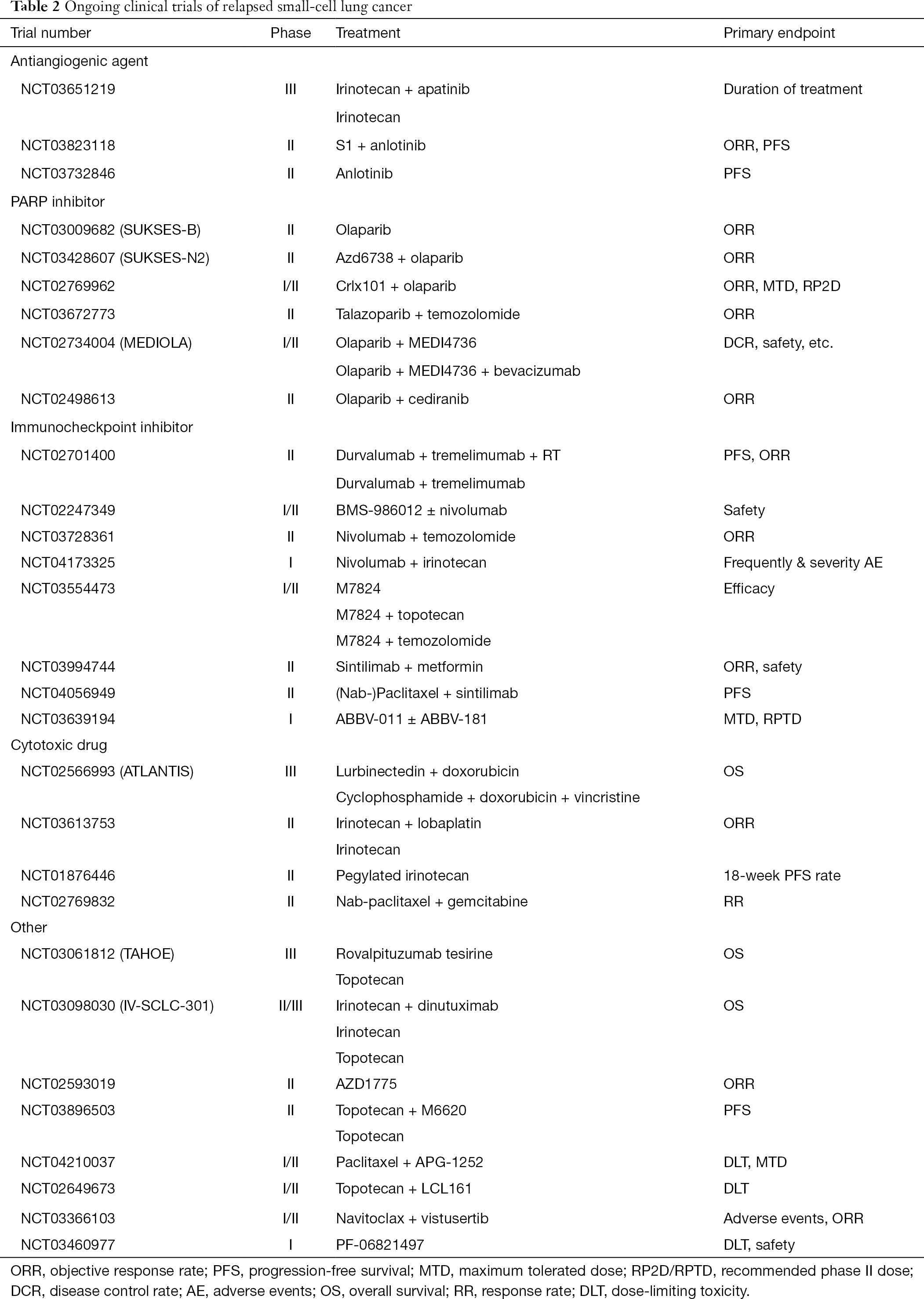 Table 2
Ongoing clinical trials of relapsed small-cell lung cancer
Full table
---
Acknowledgments
The author thank Joe Barber Jr., PhD, from Edanz Group (https://en-author-services.edanzgroup.com/) for editing a draft of this manuscript.
Funding: None.
---
Footnote
Conflicts of Interest: The author has completed the ICMJE uniform disclosure form (available at http://dx.doi.org/10.21037/tlcr.2020.03.10). KW reports personal fees from Chugai Pharmaceutical Co, Ltd., personal fees from Ono Pharmaceutical Co, Ltd., personal fees from Boeringer Ingelheim, personal fees from Bristol-Myers Squibb, personal fees from MSD, personal fees from Taiho Pharma, personal fees from AstraZeneca K.K., outside the submitted work.
Ethical Statement: The author is accountable for all aspects of the work in ensuring that questions related to the accuracy or integrity of any part of the work are appropriately investigated and resolved.
Open Access Statement: This is an Open Access article distributed in accordance with the Creative Commons Attribution-NonCommercial-NoDerivs 4.0 International License (CC BY-NC-ND 4.0), which permits the non-commercial replication and distribution of the article with the strict proviso that no changes or edits are made and the original work is properly cited (including links to both the formal publication through the relevant DOI and the license). See: https://creativecommons.org/licenses/by-nc-nd/4.0/.
---
References
Cite this article as: Wakuda K. Treatment strategy for patients with relapsed small-cell lung cancer: past, present and future. Transl Lung Cancer Res 2020;9(2):172-179. doi: 10.21037/tlcr.2020.03.10