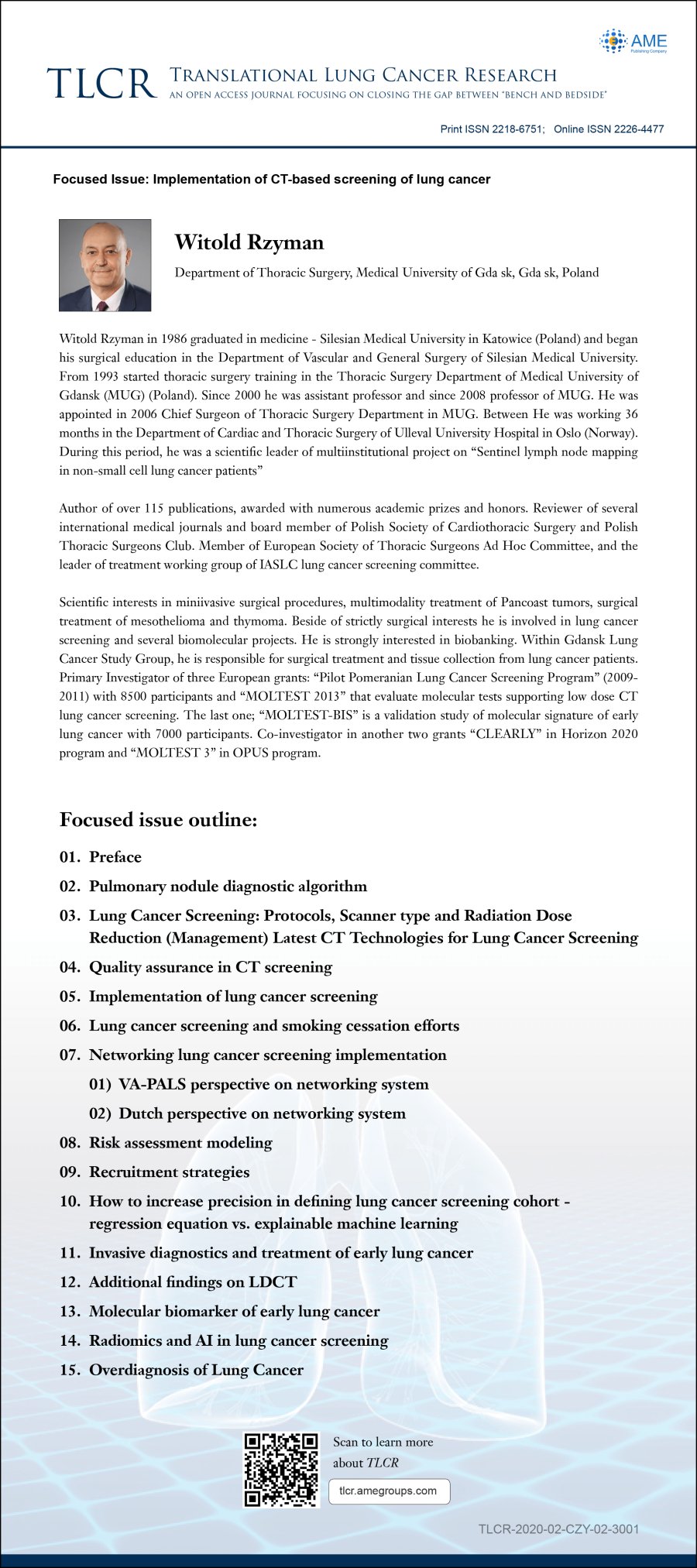 This focused issue on "Implementation of CT-based screening of lung cancer" is edited by Dr. Witold Rzyman.
Witold Rzyman
Department of Thoracic Surgery, Medical University of Gdańsk, Gdańsk, Poland
Witold Rzyman in 1986 graduated in medicine - Silesian Medical University in Katowice (Poland) and began his surgical education in the Department of Vascular and General Surgery of Silesian Medical University. From 1993 started thoracic surgery training in the Thoracic Surgery Department of Medical University of Gdansk (MUG) (Poland). Since 2000 he was assistant professor and since 2008 professor of MUG. He was appointed in 2006 Chief Surgeon of Thoracic Surgery Department in MUG. Between He was working 36 months in the Department of Cardiac and Thoracic Surgery of Ulleval University Hospital in Oslo (Norway). During this period, he was a scientific leader of multiinstitutional project on "Sentinel lymph node mapping in non-small cell lung cancer patients".
Author of over 115 publications, awarded with numerous academic prizes and honors. Reviewer of several international medical journals and board member of Polish Society of Cardiothoracic Surgery and Polish Thoracic Surgeons Club. Member of European Society of Thoracic Surgeons Ad Hoc Committee, and the leader of treatment working group of IASLC lung cancer screening committee.
Scientific interests in miniivasive surgical procedures, multimodality treatment of Pancoast tumors, surgical treatment of mesothelioma and thymoma. Beside of strictly surgical interests he is involved in lung cancer screening and several biomolecular projects. He is strongly interested in biobanking. Within Gdansk Lung Cancer Study Group, he is responsible for surgical treatment and tissue collection from lung cancer patients. Primary Investigator of three European grants: "Pilot Pomeranian Lung Cancer Screening Program" (2009-2011) with 8500 participants and "MOLTEST 2013" that evaluate molecular tests supporting low dose CT lung cancer screening. The last one; "MOLTEST-BIS" is a validation study of molecular signature of early lung cancer with 7000 participants. Co-investigator in another two grants "CLEARLY" in Horizon 2020 program and "MOLTEST 3" in OPUS program.
Focused issue outline:
Preface
Pulmonary nodule diagnostic algorithm
Lung Cancer Screening: Protocols, Scanner type and Radiation Dose Reduction (Management) Latest CT Technologies for Lung Cancer Screening
Quality assurance in CT screening
Implementation of lung cancer screening
Lung cancer screening and smoking cessation efforts
Networking lung cancer screening implementation
1) VA-PALS perspective on networking system
2) Dutch perspective on networking system

Risk assessment modeling
Recruitment strategies
How to increase precision in defining lung cancer screening cohort - regression equation vs. explainable machine learning
Invasive diagnostics and treatment of early lung cancer
Additional findings on LDCT
Molecular biomarker of early lung cancer
Radiomics and AI in lung cancer screening
Overdiagnosis of Lung Cancer
Disclosure:
The focused issue "Implementation of CT-based screening of lung cancer" was commissioned by the Editorial office, Translational Lung Cancer Research without any sponsorship or funding. Witold Rzyman served as the unpaid Guest Editor for the focused issue.