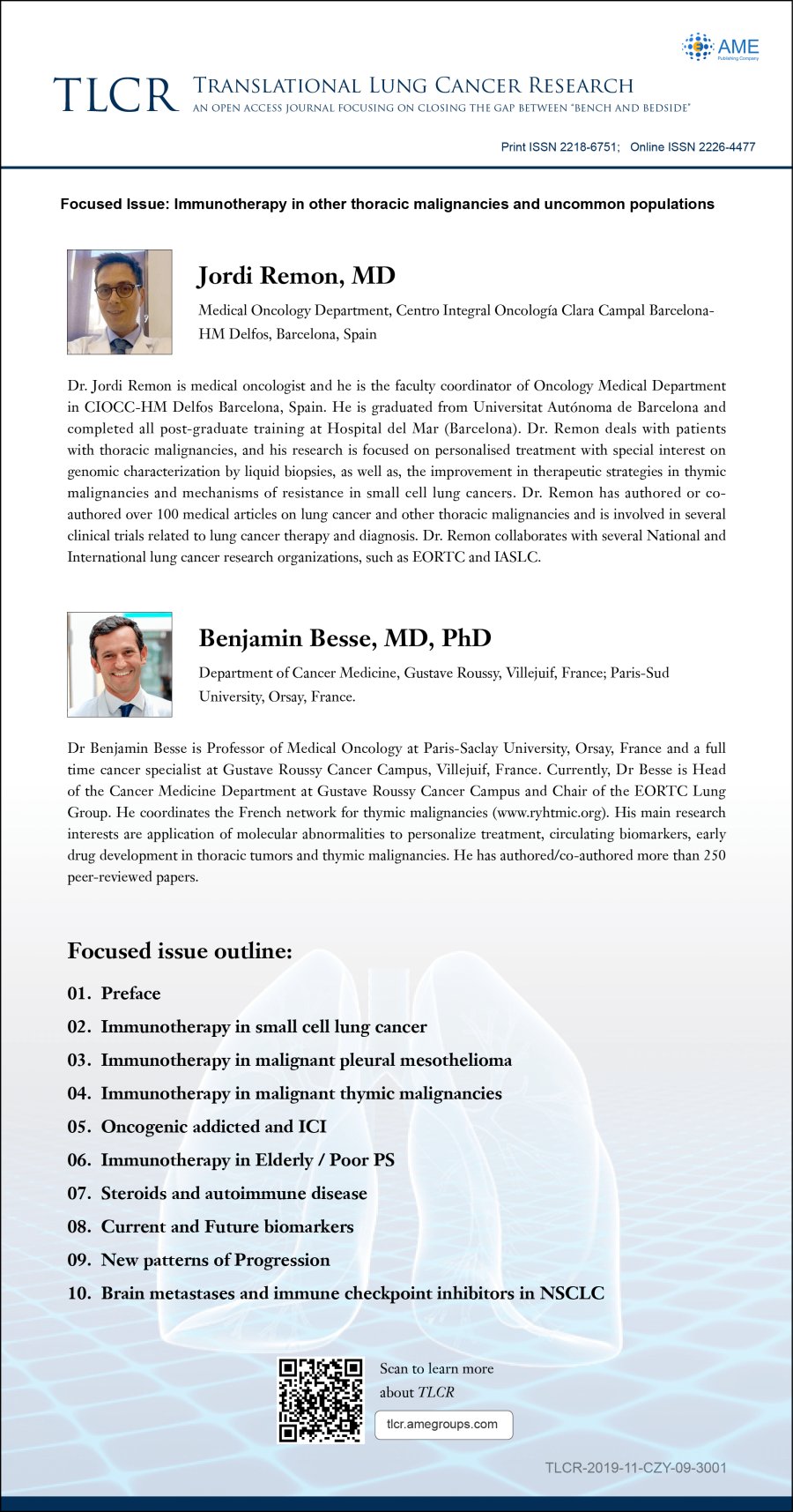 This focused issue on "Immunotherapy in other thoracic malignancies and uncommon populations" is edited by Drs. Jordi Remon and Benjamin Besse.
Immune checkpoint inhibitors (ICIs) have been incorporated in the treatment strategy of advanced non-small cell lung cancer (NSCLC). Beyond the already approved indications in first- and second-line setting of advanced NSCLC, new data has recently emerged demonstrating its efficacy in locally advanced disease as maintenance treatment after chemo-radiotherapy and currently several trials are also exploring its efficacy in earlier stages of the disease to evaluate whether these results could be extrapolated to the adjuvant setting. Recently, ICI have also enlarged the therapeutic arsenal in metastatic small cell lung cancer patients, but its role in other thoracic malignancies such as malignant pleural mesothelioma and thymic epithelial tumors remains to be resolved, with negative results as second-line treatment in randomized trials in mesothelioma patients. However, despite all these new evidences, there are still several open questions that remain to be solved in daily clinical practice such as the use of immune agents in special subpopulations like elderly or fragile patients or the case of patients with brain metastases or autoimmune disorders, as well as, patients with oncogenic addicted lung cancers. The aim of this special number is to address all these questions, reviewing most recent evidence available in order to give readers some practical advises and guidance on how to deal with these challenges when treating NSCLC patients and other thoracic malignancies with immunotherapy.
Jordi Remon, MD
Medical Oncology Department, Centro Integral Oncología Clara Campal Barcelona-HM Delfos, Barcelona, Spain
Dr. Jordi Remon is medical oncologist and he is the faculty coordinator of Oncology Medical Department in CIOCC-HM Delfos Barcelona, Spain. He is graduated from Universitat Autónoma de Barcelona and completed all post-graduate training at Hospital del Mar (Barcelona). Dr. Remon deals with patients with thoracic malignancies, and his research is focused on personalised treatment with special interest on genomic characterization by liquid biopsies, as well as, the improvement in therapeutic strategies in thymic malignancies and mechanisms of resistance in small cell lung cancers. Dr. Remon has authored or co-authored over 100 medical articles on lung cancer and other thoracic malignancies and is involved in several clinical trials related to lung cancer therapy and diagnosis. Dr. Remon collaborates with several National and International lung cancer research organizations, such as EORTC and IASLC.
Benjamin Besse, MD, PhD
Department of Cancer Medicine, Gustave Roussy, Villejuif, France; Paris-Sud University, Orsay, France.
Dr Benjamin Besse is Professor of Medical Oncology at Paris-Saclay University, Orsay, France and a full time cancer specialist at Gustave Roussy Cancer Campus, Villejuif, France. Currently, Dr Besse is Head of the Cancer Medicine Department at Gustave Roussy Cancer Campus and Chair of the EORTC Lung Group. He coordinates the French network for thymic malignancies (www.thymic.org/). His main research interests are application of molecular abnormalities to personalize treatment, circulating biomarkers, early drug development in thoracic tumors and thymic malignancies. He has authored/co-authored more than 250 peer-reviewed papers.
Focused issue outline:
Preface
Immunotherapy in small cell lung cancer
Immunotherapy in malignant pleural mesothelioma
Immunotherapy in malignant thymic malignancies
Oncogenic addicted and ICI
Immunotherapy in Elderly / Poor PS
Steroids and autoimmune disease
Current and Future biomarkers
New patterns of Progression
Brain metastases and immune checkpoint inhibitors in NSCLC
Disclosure:
The focused issue "Immunotherapy in other thoracic malignancies and uncommon populations" was commissioned by the Editorial office, Translational Lung Cancer Research without any sponsorship or funding. Jordi Remon and Benjamin Besse served as the unpaid Guest Editors for the focused issue.