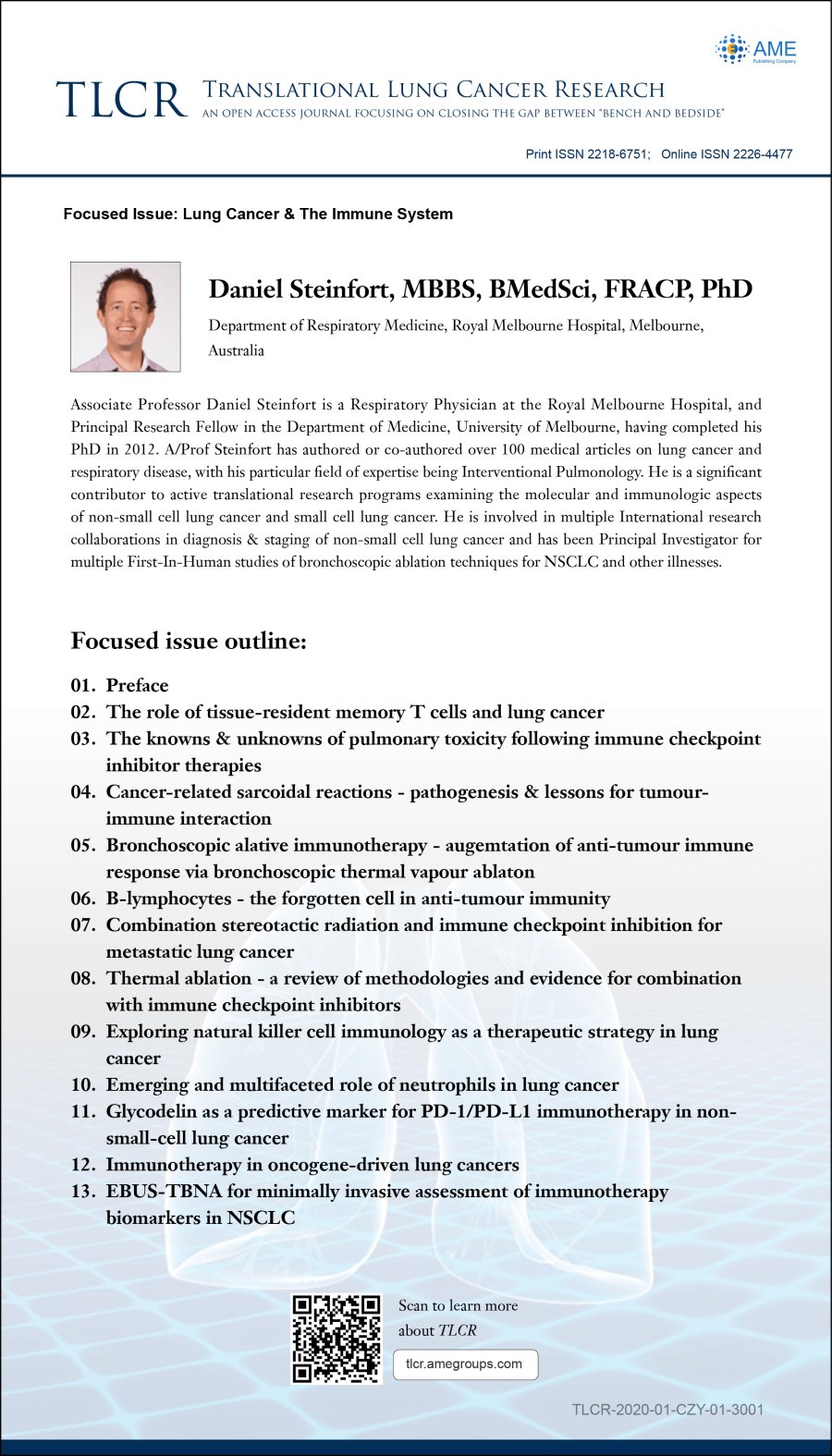 This focused issue on "Lung Cancer and The Immune System" is edited by Dr. Daniel Steinfort.
Daniel Steinfort, MBBS, BMedSci, FRACP, PhD
Department of Respiratory Medicine, Royal Melbourne Hospital, Melbourne, Australia
Associate Professor Daniel Steinfort is a Respiratory Physician at the Royal Melbourne Hospital, and Principal Research Fellow in the Department of Medicine, University of Melbourne, having completed his PhD in 2012. A/Prof Steinfort has authored or co-authored over 100 medical articles on lung cancer and respiratory disease, with his particular field of expertise being Interventional Pulmonology. He is a significant contributor to active translational research programs examining the molecular and immunologic aspects of non-small cell lung cancer and small cell lung cancer. He is involved in multiple International research collaborations in diagnosis & staging of non-small cell lung cancer and has been Principal Investigator for multiple First-In-Human studies of bronchoscopic ablation techniques for NSCLC and other illnesses.
Focused issue outline:
Preface
The role of tissue-resident memory T cells and lung cancer
The knowns & unknowns of pulmonary toxicity following immune checkpoint inhibitor therapies
Cancer-related sarcoidal reactions - pathogenesis & lessons for tumour-immune interaction
Bronchoscopic alative immunotherapy - augemtation of anti-tumour immune response via bronchoscopic thermal vapour ablaton
B-lymphocytes - the forgotten cell in anti-tumour immunity
Combination stereotactic radiation and immune checkpoint inhibition for metastatic lung cancer
Thermal ablation - a review of methodologies and evidence for combination with immune checkpoint inhibitors
Exploring natural killer cell immunology as a therapeutic strategy in lung cancer
Emerging and multifaceted role of neutrophils in lung cancer
Glycodelin as a predictive marker for PD-1/PD-L1 immunotherapy in non-small-cell lung cancer
Immunotherapy in oncogene-driven lung cancers
EBUS-TBNA for minimally invasive assessment of immunotherapy biomarkers in NSCLC
Disclosure:
The focused issue "Lung Cancer and The Immune System" was commissioned by the Editorial office, Translational Lung Cancer Research without any sponsorship or funding. Daniel Steinfort served as the unpaid Guest Editor for the focused issue.