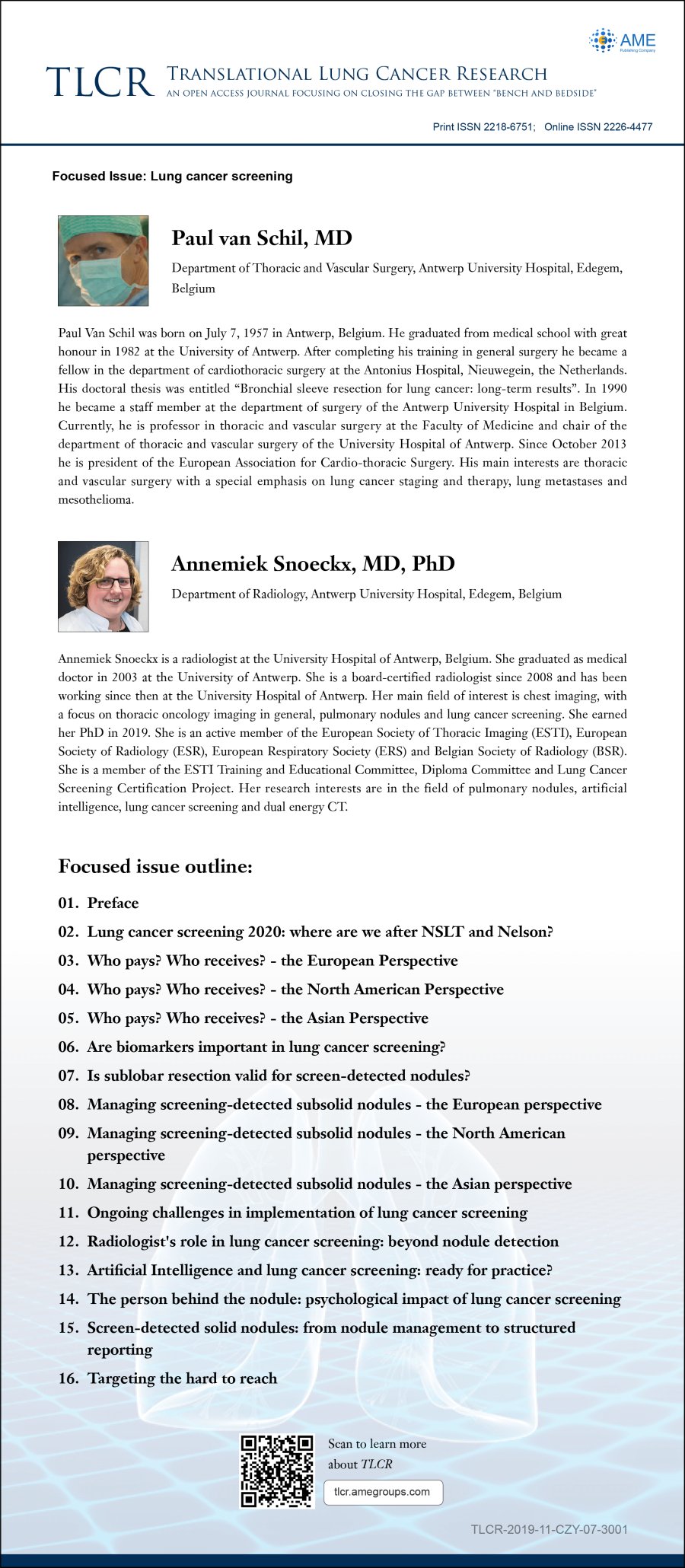 This focused issue on "Lung cancer screening" is edited by Drs. Paul van Schil and Annemiek Snoeckx.
Paul van Schil, MD
Department of Thoracic and Vascular Surgery, Antwerp University Hospital, Edegem, Belgium
Paul Van Schil was born on July 7, 1957 in Antwerp, Belgium. He graduated from medical school with great honour in 1982 at the University of Antwerp. After completing his training in general surgery he became a fellow in the department of cardiothoracic surgery at the Antonius Hospital, Nieuwegein, the Netherlands. His doctoral thesis was entitled "Bronchial sleeve resection for lung cancer: long-term results". In 1990 he became a staff member at the department of surgery of the Antwerp University Hospital in Belgium. Currently, he is professor in thoracic and vascular surgery at the Faculty of Medicine and chair of the department of thoracic and vascular surgery of the University Hospital of Antwerp. Since October 2013 he is president of the European Association for Cardio-thoracic Surgery. His main interests are thoracic and vascular surgery with a special emphasis on lung cancer staging and therapy, lung metastases and mesothelioma.
Annemiek Snoeckx, MD, PhD
Department of Radiology, Antwerp University Hospital, Edegem, Belgium
Annemiek Snoeckx is a radiologist at the University Hospital of Antwerp, Belgium. She graduated as medical doctor in 2003 at the University of Antwerp. She is a board-certified radiologist since 2008 and has been working since then at the University Hospital of Antwerp. Her main field of interest is chest imaging, with a focus on thoracic oncology imaging in general, pulmonary nodules and lung cancer screening. She earned her PhD in 2019. She is an active member of the European Society of Thoracic Imaging (ESTI), European Society of Radiology (ESR), European Respiratory Society (ERS) and Belgian Society of Radiology (BSR). She is a member of the ESTI Training and Educational Committee, Diploma Committee and Lung Cancer Screening Certification Project. Her research interests are in the field of pulmonary nodules, artificial intelligence, lung cancer screening and dual energy CT.
Focused issue outline:
Preface
Lung cancer screening 2020: where are we after NSLT and Nelson?
Who pays? Who receives? - the European Perspective
Who pays? Who receives? - the North American Perspective
Who pays? Who receives? - the Asian Perspective
Are biomarkers important in lung cancer screening?
Is sublobar resection valid for screen-detected nodules?
Managing screening-detected subsolid nodules - the European perspective
Managing screening-detected subsolid nodules - the North American perspective
Managing screening-detected subsolid nodules - the Asian perspective
Ongoing challenges in implementation of lung cancer screening
Radiologist's role in lung cancer screening: beyond nodule detection
Artificial Intelligence and lung cancer screening: ready for practice?
The person behind the nodule: psychological impact of lung cancer screening
Screen-detected solid nodules: from nodule management to structured reporting
Targeting the hard to reach